By Rachael Bailey-Frost, Talent Manager
Why I stayed at Ganymede
​
​It's no secret that there's a lot of recruitment agencies out there offering opportunities to future consultants. At Ganymede, there is no doubt that our employees are experts at what they do. We spoke to our Head of Energy, Joe Prestedge, and our Principal Consultant, Natasha Higgins, on why they stayed with Ganymede.
​
Natasha joined us in 2016 and has been taking the rolling stock sector by storm ever since. Natasha talked about the trust and security she felt from Ganymede from the very beginning: "Being a working mum, Chris O'Connor (our Director) made an agreement for me to work from home 4 days a week at the time. He had a huge amount of trust in me and my abilities from the beginning which meant a lot. For me, it's never been about progressing or managing people, I could get that anywhere. It's about having the freedom to walk my kids to school and still get the job done".
​
Natasha says, "The possibility is always there to have a chat with the team to see how I can develop myself. There has been loads of opportunity for me to help in different sectors and I have been loving it. They know what I'm capable of and only want me to be successful."
​
Providing opportunities for development ties in with our values. 'People are our passion' is at the forefront of everything we do. Joe has been with Ganymede since 2015 as our Head of Energy and talked about what made Ganymede have the staying power, he said; "I loved the industry I was in, but when Ganymede offered me the job, I couldn't believe how open and down to earth they were, and extremely forward thinking. Ganymede actually wanted to invest in their employees. I loved the freedom it gave me."
​
Having a likeminded team has made a huge difference to both Natasha and Joe's experience with Ganymede. Natasha says, "For me, it's great how everyone has their own goals, and everybody wants you to do well and achieve them. In other agencies there is a lot of ownership over certain areas or sectors. But here, everyone is very supportive and willing to help you. If you're having a down day, there's always someone to call. The banter helps – me being a Luton supporter means I get it all!" And Joe's role in managing people has only shown him the importance of the team he has around him, he says, "We really have such a good core team of experts. Honestly, it does sound cheesy, but it is like one big family. Everyone works so hard. It's as simple as this, we speak to everyone with respect, you all get the opportunity to develop, and the support is always there, no questions asked."
​
And their journey with Ganymede isn't over yet. When questioned on his future with the company, Joe has no doubt that the options for our energy team are only getting bigger, he says, "The future is huge. The industry is moving in a sustainable, green energy direction and our business is only developing further. Looking at all the different avenues of work available to us, I have no doubt that the opportunities are enormous and means we will only continue growing."
​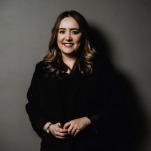 Find out more about a career with Ganymede today. Send me your CV or connect with me on LinkedIn today.
Telephone: 07920 595 229
Email: rachael.bailey-frost@ganymedesolutions.co.uk
​LinkedIn: Connect on LinkedIn