By Ganymede Solutions
Recruiters - is it time to make your move?
IN CONVERSATION WITH PRINCIPAL CONSULTANT, TOM CLEVERLEY
​
As an experienced recruiter, the thought of leaving an established desk can be daunting. Starting from scratch in a new industry doesn't come without challenges, but we spoke to our Principal Consultant, Tom Cleverley, on why he moved from a Senior Recruitment role with an established desk, into a brand-new role at Ganymede.
​
Let's start from the very beginning; Why did you initially get into Recruitment?
"I have worked in Sales since leaving school. The idea that I could sit and talk to people and get money for it was the biggest thing for me. I'd always thought about Recruitment, I knew the earning potential was there and I was hungry to be successful. I took my first Trainee Recruitment role with a drop in salary, because I knew the opportunity was there."
​
How did you become successful in your previous Recruitment positions?
"I think what has made a difference to my experience has been the long-term planning. A lot of recruiters think about the here and now but it's all about building lasting relationships, thinking about opportunities that could be beneficial to the candidate in the future is what it's all about. I am a firm believer that you must know how each client works, one size does not fit all and the same goes for my candidates, I'd never sell someone an opportunity that they are unsure of, I'd rather keep in touch with the right opportunity later, even if it's months down the line. I created a system where each client had their expectations managed which was key to understanding their needs."
​
What fears did you have about moving from an established desk to a brand new one?
"I think the biggest fear I had was figuring out how I would slot into an already established team, especially knowing how successful the business was. I thought I would be a small fish in a big pond, but I couldn't have been more wrong. Coming from a senior position, I wasn't used to being managed so I did have some reservations about that – but I have been given the freedom to work in my own way and there are some of the nicest people I've ever met at Ganymede. Even with remote working I felt like I'd been here for months. Ganymede really encourages you to be yourself, express your ideas and bring your individual take to recruitment."
​
What stood out about Ganymede?
"The brand. I knew Ganymede because I had been competing with them for years! Quality is the difference, our interviews are thorough, the CVs are relevant, and the clients and candidates appreciate that. I knew my next position had to be about offering the highest standard of candidate, and I knew quality was at the forefront of everything Ganymede did. I knew if I had the brand behind me, I could really hit the ground running."
​
What were you promised before starting at Ganymede and do you feel like you have received that?
"I think the big thing was freedom – I could really focus on what I was good at. I was promised support and guidance and that's exactly what I have, nothing is ever too much. As I said, Ganymede is all about finding where your strengths lie and that's exactly what they do. I've been given the chance to break down barriers and it seems to be working!"
​
How did you find training at Ganymede?
"It's thorough! I started my role wanting to get stuck in and go for it, at the time I was frustrated because I was a recruiter that already knew how to recruit – but it was a God send because I became an expert on the brand and the difference in what we can offer here. It's been essential in knowing the values of the business and has allowed me to offer that quality service that Ganymede is known for. I think the reason it works is because everyone has the same training, no matter your experience. If you come in and need more guidance than the colleague next to you, no problem, because it's there."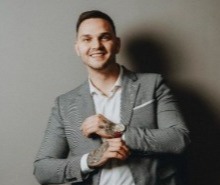 And finally, what does your future at Ganymede hold?
"There are so many options for me here, maybe build a team, go down the client relationship side of things, who knows? For now I'm just concentrating on re-establishing my former relationships but I know I'll be here for a long, long time."
​
If, like Tom, you are an experienced Recruiter looking to take that next step, get in touch today to see if Ganymede could be the right fit for you.
​
​