By Ganymede
National Apprenticeship Week 2021
​
Taking place across the country, National Apprenticeship Week showcases how apprenticeships have helped employers and people of all ages and backgrounds. Ganymede are celebrating National Apprenticeship Week 2021 to spotlight the amazing work done by our apprentices as well as to provide an insight into what the scheme involves.
​
Apprenticeships are a great way to hit the ground running, learn relevant skills whilst also making a valuable contribution to the success of the organisation you are joining. On top of all this, you'll be earning whilst you learn and working towards receiving a qualification at the end of your scheme.
​
If you are considering an apprenticeship but aren't sure what it might involve, we spoke to two of our apprentices, Andy Rowland and James Bacchus, to provide you with an insight into the Ganymede scheme:
​
​"Why did you want to do an apprenticeship?"
​
Andy "I wanted to do an apprenticeship as I felt that I would gain more from it in the long run, as opposed to just paying for my PTS and trying to get work and progress on track that way. I believe that I will become more employable in the future with the experience, opportunities and tickets I have gained so far through the apprentice program."
James​ "I chose the apprenticeship route as I realised what an opportunity it was and how many different tickets and qualifications I could achieve. As well as this, I also realised it was a great opportunity to help start a fantastic career within the railway."
​
"What projects have you worked on with Ganymede?"
​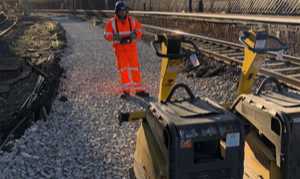 Andy "So far, I have been involved in many Ganymede projects and have been putting to good use some of the tickets I have obtained, from using my Working at Heights to assist with a special project on a gantry where we were updating some safety railings, to operating the triple wacker on a big renewal job at Harrogate Station. I have also been involved in assisting the installation of a set of switches on the same job."
​James​ "I have been involved in a few different projects, such as full re rails to laying new tracks and troughing routes. I have also been a part of a specialist projects team who travel the country dealing with a variety of aspects such as signal improvements, signal renewals and putting new signals in. I have also been part of teams that were doing troughing routes, both taking out old trough routes and replacing with newer troughs and tidying them up, laying new cable to be installed into signals etc."
​
"What have you learnt during your apprenticeship with Ganymede?"
​
Andy "I feel that I am progressing well through the apprenticeship thus far, both with the theory and practical aspects. I have thoroughly enjoyed being able to assist with work operations in a physical manor and contribute towards problem solving to get the job at hand completed within the set time scales."
​James​ "During my Apprenticeship with Ganymede I have learnt many different skills and roles since starting. I have learnt how to use and be competent with most of the small plant and hand tools that you will come across on the railway, as well as learning how to carry out a variety of different job roles such as troughing, laying and taking up track, sleeper changes laying new sleepers and digging them out correctly. As well as carrying out the civil side of the railway, such as clearing vegetation access improvements, cable pulling, troughing, signal improvements and laying new cables. I have enjoyed getting hands on and learning new skills whilst out on sites on jobs as well as working in different places all over the country."
​
"What are your future plans in your career?"
​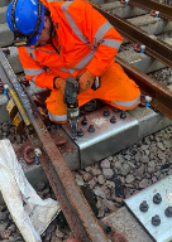 Andy "I'm looking forward to progressing further. I strive to always better myself, to become a valued employee, a key team player and hopefully resulting in me being requested to assist with future work operations and to work my way up within the industry."
​James​ "My future plans are to carry on learning throughout my apprenticeship and pick up as many skills as I can and to see what different job roles are out there. In doing so, I hope to find a certain role with in the railway which I enjoy and I can excel in and work my way up the ladder within this job role."
​
​
If you would like to join a rail apprenticeship scheme or get more information on what the Ganymede apprenticeship entails, contact us for more information.
​
​