By Ganymede
​Ganymede are delighted to have welcomed 12 new apprentices onto the company's Apprenticeship scheme
​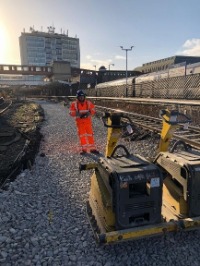 The Ganymede Apprenticeship Scheme provides fantastic opportunities for individuals and prepares them for a future career in the rail sector. Apprentices learn the fundamental skills needed to work in the rail industry by undertaking work trackside, whilst developing academic skills in a classroom environment.
​Working in partnership with Network Rail, and training provider Intertrain, our apprentices will achieve a Track Maintenance Rail Infrastructure Engineering apprenticeship qualification at the end of the 12-month scheme.
​
​
​
What does the Ganymede Apprenticeship Scheme entail?
​
Throughout the apprenticeship, individuals will be doing a combination of classroom and practical based sessions. This intake has been split into two groups of six, so they can receive full exposure to the industry.
Initially, the apprentices will receive five weeks of extensive training, which includes induction to track, OLEC1 and small plant. Following this, the apprentices will continue their classroom-based learning two days a week at their local college and go on to develop their practical skills two to three days onsite.
The Apprentices will carry out various range of jobs, including the changing sleepers, routine maintenance tasks, renewals tasks, civil works such as vegetation tools training and Lookout training.
​
What will apprentices achieve at the end of the scheme?
​
On completion of the apprenticeship, each candidate will achieve the following qualifications:
Level 2 NVQ Diploma in Rail Engineering Track Maintenance

Level 2 Certificate in Rail Engineering Underpinning Knowledge

Essential skills

Personal learning and thinking skills

Employment rights and responsibilities
​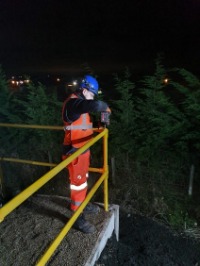 Oliver Wright, Operations Director at Ganymede said:
"I am delighted to welcome our latest apprentices to the business. Our Apprenticeship Programme is an important way for us to support talented individuals build their careers, transfer their skills and encourage a new generation of rail engineers. I wish our new apprentices the very best of luck as they start their exciting new careers."
​
Individuals may then continue to work as a Track Operative or will have an opportunity to progress onto Level 3 Apprenticeship in Rail Engineering.
​
Our apprentices have shown great enthusiasm already:
​
"I've found both communicating with Intertrain and Ganymede an easy process in regard to learning and courses."

"My experience with Ganymede and what they are offering is great. Also, at Intertrain, all the staff tutors are great to listen to."
​
If you are looking for an apprentice or would like to join a rail apprenticeship scheme, contact us for more information.
​
​