By GanymedeSenior Systems Engineer and 'Top 50 Women in Engineering' finalist, Victoria Roots, talks to us about her career and encouraging more diversity into the profession.
This week the country is celebrating 100 years since women were granted permission to vote. After years of campaigning, the law was passed on the 6th of February 1918 and this marked the start of several major steps towards equality for women.

Fast forward 100 years and women are now free to lead and innovate. Despite this, there is still a lack of diversity in engineering with females making up only 9% of the workforce.

The engineering skills gap continues to grow and it's estimated a further 265,000 skilled entrants are required annually to meet demand through to 2024. Because of this, there's been no better to time to encourage women to consider engineering as their future career.

In the below interview we caught up with Victoria Roots, a Senior Systems Engineer at BAE Systems, to find out more about being a woman in engineering. Victoria was named in The Telegraph's 'Top 50 Women in Engineering' in 2017 is currently working on the flight control module of the multi-million pound Boeing 777x.
When did you realise you wanted to be an engineer?
Engineering wasn't really a term used at my school. I went to an all-girls grammar school and although we were encouraged to achieve our highest potential, when it came to careers it was the 'traditional' choices that were was discussed. Science, maths and IT were all interesting to me at school and they were the subjects I excelled in, but it wasn't clear to me which careers I could go in to.

My dad got an old computer from work in the mid-90's and I thought it was the most fascinating piece of technology I'd ever seen so I really wanted to learn more about them. I eventually went on to do a bachelor's degree in Engineering and Electronics.
​
Does more need to be done to encourage women into engineering?
Yes 100%, especially as we need more engineers than ever to fill the recruitment and retirement gaps we have. I did a lecture on the subject recently at the engineering department at the University of Kent for the IET titled '9% is not enough'. It highlighted the issue and discussed what we can do to increase the number of young women in engineering. There is absolutely no reason why a woman shouldn't be an engineer and we need more women in STEM.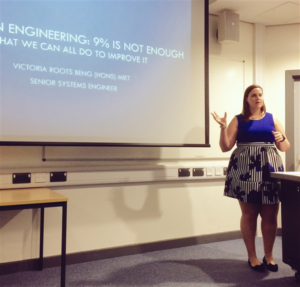 Victoria presenting at the University of Kent.

​
How do you find working in a male-dominated environment?
I have no problems and I don't feel I have been treated any differently. I work as equally hard as my peers and I don't expect any special treatment and I am not given any. Occasionally you get the odd banter but having studied with only men throughout university and then moving into a male-dominated work environment, It's something I have learned to join in with. My friends and colleagues respect me and the work that I do for the company.
​
What advice would you give to aspiring engineers?
Don't be intimidated by the title of engineering, it can mean so many things and so many different exciting careers. That's part of the issue – a lot don't understand what engineering is. You ask people what a doctor does and they will know, but if I tell people I am a Systems Engineer, most won't know what that means. If you have an interest in maths, science or IT/computing then it's worth doing some research into the types of engineering jobs out there and explore the options.
​
Engineering Jobs
Ganymede is an engineering recruitment agency with a difference. With over 50 years' experience, we're the perfect place to find your next engineering job or to find support for your next engineering hire.

We're working hard to do our part to increase the number of women working in engineering and work closely with our clients to increase diversity in their workplace and the engineering sector as a whole. Contact us below to view current engineering jobs or to discuss your recruitment drive.

VIEW ALL JOBS