By Ganymede Solutions
​Leading labour supplier to the rail industry converts used PPE / Workwear into Energy
​
Ganymede Solutions continually look for new initiatives that support them in achieving their Corporate Social Responsibility strategy, which includes considering environmental impact.
​
As a leading supplier of labour to the rail industry, the sourcing, use and disposal of PPE/Workwear was a key area identified to support this strategy.
​
Together with specialist rail PPE supplier, Safeaid, Ganymede Solutions considered the lifecycle of PPE/Workwear and implemented new recycling facilities.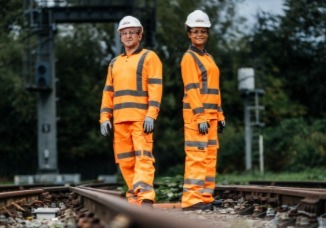 The goals were, firstly, to reduce the amount of PPE/Workwear that is not looked after properly and therefore disposed of before it needs to be. Then, to provide an alternative option to operatives and staff that prevents used clothing going into landfill.
​
Through the recycling operation, instead of ending up in landfill, the shredded textiles are baled and sent on for further processing so that they become refuse derived fuel (RDF). This means that the textile shreds are incinerated to produce steam, which is converted into energy.
​
An education into product lifecycle
​
Ganymede Solutions will be providing learning resources to staff to ensure all PPE is looked after correctly and lasts for as long as possible.
​
Furthermore, the process will be made as easy as possible for operatives to utilise this recycling scheme by having 'drop and swap' facilities in eight Ganymede locations across the UK, starting with its office in Wales.
​
The aim is for 25% of staff to use the recycling facility throughout the first year.
​
Gary Lobue, Head of HSEQ said of the new initiative:
​
"We are absolutely thrilled to get this project off the ground, reducing waste to landfill is something we have been working on within our offices, but being able to provide this recycling service to our operatives and staff is fantastic and a testament to our dedication to our Corporate Social Responsibility strategy."
​
Richard Bowen, Managing Director at Safeaid commented:
​
"We are delighted to support Ganymede with PPE recycling facilities. As a business we're committed to delivering environmentally responsible solutions to our customers to help them achieve their sustainability goals. These include our Signal carbon neutral PPE range which Ganymede also purchase for their workforce."