By Abbey Sawdon - Talent Coordinator
​
Ganymede - The Route to Progression.
IN CONVERSATION WITH OWEN HUGHES, RECRUITMENT MANAGER

.
​
When speaking to candidates, progression opportunities are often mentioned as a reason for their interest. At Ganymede, we have a structured progression plan and are passionate about working with our employees to develop with the business and succeed. Just one example of the progression opportunities we have is Owen Hughes, who started as a Trainee and is now a Recruitment Manager managing a team of seven, tasked with growing our Contract Infrastructure business.
​
Owen has now been with the business for over seven years, having started with our sister company ATA Recruitment prior to the more recent merger. He left sixth form and joined a small commercial property consultancy in Derby, before deciding to leave the property sector for a career in recruitment.
​
Why did you decide to move into recruitment?

"I thoroughly enjoyed my time at the consultancy working for a great company in Derby but opportunities for progression were slim, and I was keen to progress into a career that had better financial prospects for me moving forward. The previous job I had was slow-paced and for me, moving into an office environment surrounded by people all keen to earn a lot of money and push themselves to achieve great things was exactly what I wanted. The ability to control my earnings was something I was eager to test out having come from a minimum wage post."
​
During his time with the group, Owen has continuously progressed through the ranks, assuming four posts in four years. With no shortage of recruitment opportunities available, he explained this was one of his initial reasons for choosing Ganymede;
​
​Why Ganymede?

"I remember seeing an advert online and the two things that stood out were the ability to control my own earnings and the fact that progression wasn't based on how long you had been in the company. It was based on how ready you were to step up to the next level and that was something that really excited me. It was a chance to prove to myself that despite having no higher qualifications, I could still build a career with brilliant opportunities both financially and career-wise."
​
We have many routes to progression, Owens journey to managing a team is only one of the routes we have available. Perhaps you can see yourself working autonomously as a Principal Consultant, or manage our Client Relationships, there are many routes to success at Ganymede, and we are passionate about working with our employees to ensure they know exactly what they need to do to succeed. Owen says;
​
"Ganymede will provide you with the opportunity to grow and develop your own career – there's something available to everyone here! It's not a typical cut-throat recruitment agency and the training on offer is second to none, which is largely down to the fact you will be surrounded by people with at least 10 years of experience, no matter which location you join, which is extremely rare for the recruitment industry. There is no better time to begin a career in recruitment as the country and industry is bouncing back following the pandemic and the IR35 changes. "
​
He goes on to say, "Ganymede will provide you with the tools you need for success and all we ask in return, is that you come ready to listen, learn and consistently push yourself to achieve the very best you can! Each and every member of staff is on board with our plan for growth and no request for support is too big."
​
If, like Owen, you would like the opportunity to work with a business that can support your route to progression, then get in touch with Ganymede today. We have both Trainee and Senior positions available and are open to all backgrounds.
​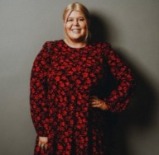 Find out more about a career with Ganymede today. Send me your CV or connect with me on LinkedIn today.
Telephone: 07849 077 931
Email: abbey.sawdon@ganymedesolutions.co.uk
​LinkedIn: Connect on LinkedIn